I did major damage to my bank account over the weekend. Ate sushi pretty much the whole weekend and did a little shopping.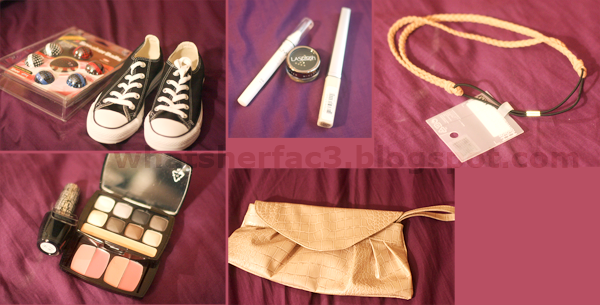 - I finally bought a new pair of classic black & white Chuck Taylors. Comfortable and good for everyday wear. I own a few pairs. You can't have too many.
- Alongside the chucks, I bought Sneaker Balls. Just in case I need to get rid of BO in my sneakers/shoes.
- I stopped by Ulta and picked up NYX jumbo pencil in "Milk", LASplash multi-use glitter in "Enlightened", and LASplash proof sealer.
- A cute headband from H&M.
- Another trip to Ulta for Katy Perry's "Shatter" nail polish in black and NYX Matte palette in "One Night in Morocco". NYX products were 40% off over the weekend.
- Lastly, I stopped by Charming Charlies for a much needed clutch.
* The look from Katy Perry's "Shatter" with a hot pink base color.