I participated in my first 5K this past Saturday; June 2nd. It was not your typical 5K. Whilst running, runners had to avoid "zombies" and go through obstacles. Participants receive three health flags to tie around their waist. The object of the event was to avoid "zombies" from taking your flags. It was quite an experience. From sliding down into a mud pool, walking against a downstream, getting zapped a few times while crawling in mud under an electric fence, to jumping out of a dirty pool of water and accidentally having my shorts fall loose, exposing my hot pink undies to the army guy, the overall experience was amazing.
I enjoyed the obstacles. They were way fun. Those did not wear me out. The running did. Going up sandy and muddy hills, trying to prevent my flags from being taken was tirrrrre-ing! The very first few hills were the most difficult. The first 5-10 minutes nearly defeated me. Being oblivious of what to expect, I seriously contemplated thoughts of calling it quits. After making it two-thirds into the 5K, I lost all my flags. After that point, the run became a lot more at ease. "Zombies" didn't really put a whole lot of effort in wasting their, (I'm sure tired as well), energy to chase runners without flags. The experience and adrenaline rush felt incredible after I was done. I think three of the girls from my group each had one remaining flag around their waist. Yay to them!
I am so thankful for all the girls I went with. I was obviously the weakest link! They were such an awesome bunch. They waited at the top of the hill, toward the finish line, so we could all slide down into the mud pool and finish together. I told myself and a few of the ladies, I probably will not do it again. I can now cross it off my bucket list, but who knows, maybe I will give it a round two. Perhaps next time I will do a little more training. I was definitely not physically prepared this time around. After we all rinsed ourselves and got dressed into our clean dry clothes, we went straight to the concession stand to redeem our one-free-drink ticket for a cold beer.
Results are here:
5K Zombie Run - Minnesota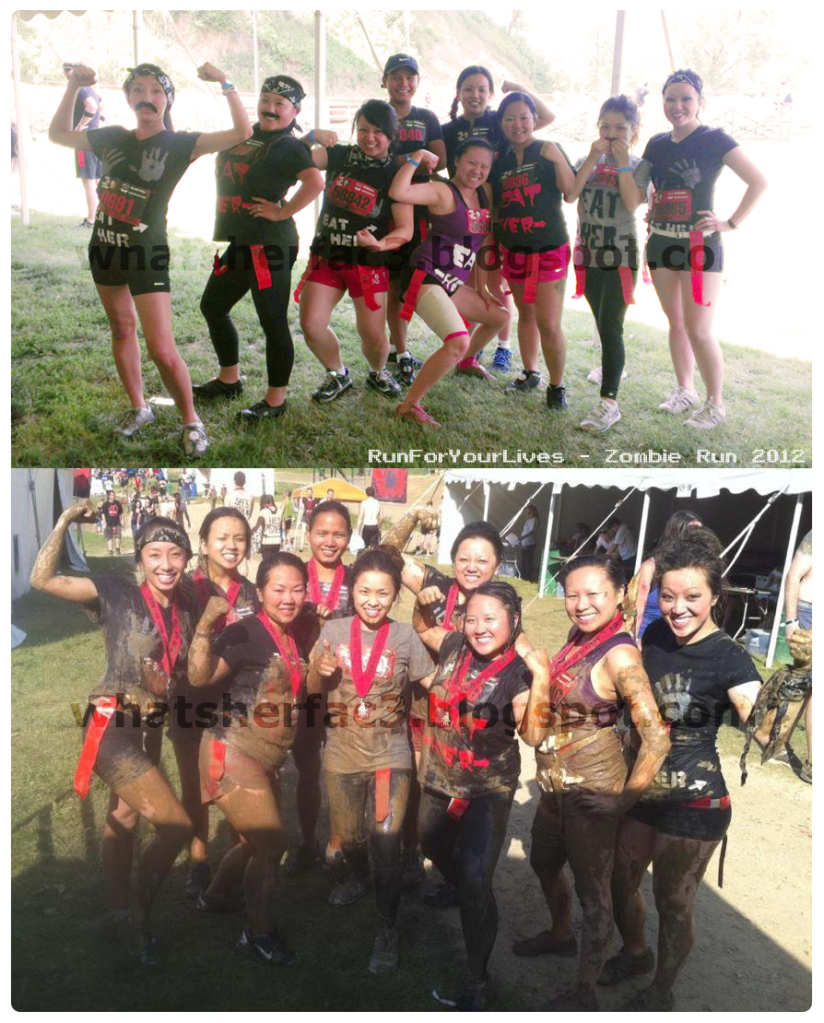 The Ladies!!! Before & after. From dry, clean clothes, and being excited... to being drenched in mud, water, and an incredible feeling of accomplishment.
After the whole experience, I decided to donate my shoes to the event. I have had those babies since the eight grade. They definitely stuck with me and managed to stay in good condition. I figured someone in much more need could make great use of them as well. :)
According to Wikipedia,
"In 2012, Run For Your Lives established a partnership with Project Sole, a non-profit organization that collects shoes to raise money for domestic schools and civic organizations while distributing footwear to impoverished and disaster stricken communities throughout the world. At each event, Run For Your Lives participants have the option to donate their used sneakers after the race."
Here is an awesome POV video. All locations are slightly different. This is what us Minnesotans had. Kudos to a youtuber who also took part in the Minnesota Zombie Run course.